Airfield Map



Runway 23/05 8720ft Runway 27/09 3622ft

Apron and Stands Chart

Air Band Radio frequencies (MHz)

Glasgow Tower 118.8
Approach 119.1
Radar 119.3
Ground 121.7

Due to increased security at all airports, special attention should be given to restricted areas and parking. Don't park your car close to the perimeter fence and don't leave it unattended. Obey all 'no parking' signs as the police and airport security will move you on. If they do ask you to leave, do so politely. For more information on permitted spotting places at GLA and security issues see this police message.

For GLA movements visit www.egpf.vze.com
Spotting and photographic vantage points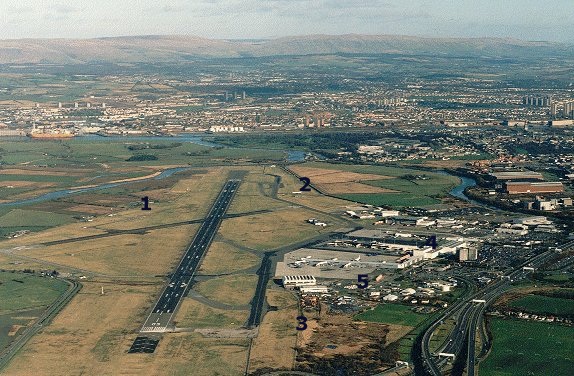 Aerial view looking North East along Runway 05 with spotting places marked
1. Point 1 on the photo above. The north perimeter fence between Glasgow Flying Club and East Yonderton Farm on Walkinshaw Road provides open views of the runways and terminal area though it faces towards the sun for most of the day. At the very end, the emergency access gate affords excellent views on landers on Runway 23 but as with all spots, don't park near the fence or gate. Access is from the Barnsford Road and a car is required from the terminal.
| | |
| --- | --- |
| departing on Runway 23 from the gate described above. | slowing after landing on Runway 05 from the gate described above |
2. There are two emergency access gates along Inchinnan Road, about a 1 mile walk after turning left outside the terminal. Here you get excellent views of landing/departing aircraft and very close to the taxiway and holding point when Runway 23 is in use (most of the time). Please note no parking is allowed near these gates.
| | | |
| --- | --- | --- |
| landing on Runway 23 from the gate described above. | approaching Runway 23 from the gate described above. | taxiing to Runway 23 from the gate described above. |
3. The emergency access gate close to the end of Runway 05 and along the fence to the left are excellent for taxi, hold and landing shots when runway 05 is in use. This is situated at the far west of the airport beyond the Loganair hangar on St Andrews Crescent. West of the gate the area known as 'the mound' in the contractor's dumping ground is a popular spot for photographers with an elevated outlook onto the runway and taxiways. Some aircraft landing on Runway 23 may be missed if they turn off at Link D.
3a. Even further west there is a public walkway/cycle path with excellent views of the Runway 05 threshold. This path can be accessed from Barnsford Road which skirts the end of Runway 05 from the St James Interchange.
| | | |
| --- | --- | --- |
| lining up on Runway 05 seen from 'the mound' described in point 3. | about to land on Runway 05 seen from 'the mound'. | about to land on Runway 05 seen from the path described in point 3a. |
4. Restricted views of Apron L (domestic) are available within the terminal building adjacent to the old international pier which hosts services to the Highlands and Islands, Channel Islands and Ireland, as well as hosting bmibaby and easyJet.
5. Close to the terminal building there are good views of the west side of the international pier (Apron N) and arriving taxiing aircraft between the blast fence and taxi park. There is also a snack bar offering coffee and hot rolls at this point.
| | |
| --- | --- |
| turning into the international apron west side from point 5 described above. | view of the west side of the International Pier. |
---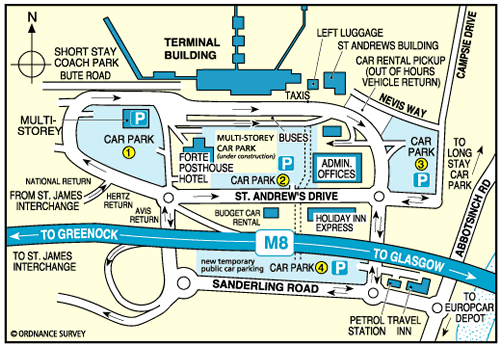 airport access road map
---
Glasgow's airlines
Airlines to be seen on a regular basis include:

British Airways, BA Connect, bmi, bmibaby, Thomsonfly, First Choice Airlines, MyTravel, easyJet, Air Malta, KLM City Hopper, KLM, FlyBe, Excel Airways, EuroCypria, Aer Lingus, Air Europa, Spanair, Futura Airways, Continental Airlines, American Airlines, Air Transat, Icelandair, Air Atlanta Europe, Travel City Direct, Onur Air, Pegasus Airlines, Nouvelair Tunisie, Iberworld, BH Air, Helios, Monarch Airlines, Loganair, Austrian Arrows, LTE, Air Contractors, Zoom Airlines, Air Scotland, Highland Airways, Thomas Cook Airlines, Emirates, US Airways, BritishJET, Pakistan International and FlyGlobespan.
Check out the Glasgow Airport aircraft photographs at the following web sites:
www.airliners.net | www.jetphotos.net | www.saap.co.uk | www.picturesofaircraft.com
---
Glasgow Airport - a brief history
by Clive Braham©
1932 The site at Abbotsinch was first used as an overspill airfield for the RAF base at nearby Renfrew.
1943 The airfield was handed over to the Royal Navy and became HMS Sanderling. The Royal Auxilliary Air Force Squadron 602 (City of Glasgow) was resident.
1960 November 14th brought the announcement that a new airport for Glasgow was to be built at Abbotsinch to replace Renfrew.
1963 Saw the withdrawal of the Royal Navy as work went on to build the new airport.
1966 May 2nd the airport was officially opened for business at 8 am. That day BEA began jet services to London with Comet 4 aircraft to support the existing Vanguards. British Eagle also introduced their brand new BAC 1-11 jets. By December that year Glasgow Abbotsinch airport recorded it's 1 millionth passenger.
1969 KLM transferred its Amsterdam - Prestwick service to Glasgow.
1973 The main runway was extended from 6,720 ft to 8,720 ft to cater for larger jets.
1975 The owners Glasgow Corporation sold the airport to current operators BAA. BEA launched the Super Shuttle service to Heathrow with Tridents and introduced HS 748's to the Highlands and Islands.
1976 A £2million extension of the terminal was started to bring capacity up to 3.5 million passengers a year.
1987 Work began on a major extension of the apron area .
1989 A major extension of the terminal building was announced. The three year project with an initial cost of £55 million would increase the terminal size by 70% and cater for 6 million passengers a year.
1990 March 6 saw the historical announcement of the lifting of Prestwick Airport's monopoly on transatlantic flights. Airlines would be free to fly to North America from any airport they chose. Air Canada and Northwest switched right away beginning services to Toronto and Boston respectively in early May. American Airlines began Chicago services and later that summer British Airways introduced New York JFK with TriStar aircraft. Canadian charter airlines began holiday flights to Canada.
1994 Building work was completed and international traffic moved to the new pier with 7 air bridges capable of handling any type of aircraft. The terminal now has 33 gates as well as remote parking areas.
1997 Continental Airlines took advantage of the withdrawal of Northwest and United Airlines (who served Washington DC) to begin services to their hub at New York Newark.
2002 Big expansions from low cost operators on domestic routes helped passenger numbers continue to rise.
2004 Emirates Airlines began the first direct flights from Scotland to Asia, flying to Dubai daily.

2005 Four new remote aircraft parking stands were completed as based low fares airline Flyglobespan continued a rapid expansion.
2006 Glasgow Airport continues to prosper as Scotland's number one international airport. Glasgow now handles over 8.8 million passengers and over 90,000 air transport movements a year and in July 2004 was the first Scottish airport to record 1 million passengers in a month. Another major expansion of the terminal building was announced which will incrementally increase capacity to 16 million passengers a year and plans for the long awaited direct rail link to the city centre were formulated.
---

Q FlyGlasgowDirect.co.uk
© 2006 C Braham. Information here is intended as a guide only and is subject to change.